Metal Detection Systems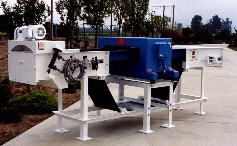 The METAL DETECTOR SYSTEM is installed following the cube cooler fines eliminating conveyor or the takeaway conveyor. As the cubes pass through the search coil box an electronic signal will activate the rejection gate and direct the defective cubes out of the system. The metal detector system allows the cubing operator to market "metal-free" cubes to the end-user.
KEY BENEFITS*
Integrates easily into existing cubing systems
Accurate metal detection at low and high production levels
Detects metal baling wire as small as 3/8"
SPECIFICATIONS*
6' fiberglass conveyor section
Search coil
Continuous rubber belt conveyor
Search coil enclosure
3 horsepower gear motor
Pneumatic cylinder rejection gate
Rejection bin
Operator controls