Biomass Grinding for Biofuel
CLEAN & EFFICIENT OPERATION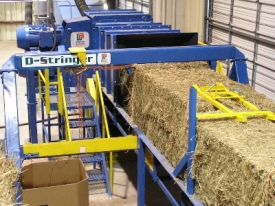 Fossil Fuel has been used traditionally because of its low cost and availability.
Now growing biomass for fuel is becoming more cost effective than in the past.
ADDING BIOFUEL:
¨
Produces a more complete combustion of fossil
¨
Reduces harmful emissions.
¨
Increases efficiency in Co-Generation facilities.
¨
Utilizes biomass formerly burned in the field.
The Warren & Baerg System:
¨
Baled biomass is conveyed horizontally through the D-Stringer and into a sealed chamber at a constant
rate where it is ground to the desired particle size in the W&B Grinder. A sealed conveyor or air
takeaway delivers the material into the system.
The Benefits:
¨
GREATER Production
to horsepower ratio than any other grinding system.
¨
Accommodates any size bale -
Even large round bales can be fed through the system without breaking them up first (see below).
¨

Less Labor

– Automatically removes the twine from most bales.

¨

Less equipment –

Four components, Bale Conveyor, Twine Remover, Grinder and Takeaway System.

¨

Less Maintenance

– All hammers and screens wear evenly, resulting in longer life

¨

No dust

– Bales are conveyed through a sealed chamber into the grinder
View video of D-Stringer: http://www.youtube.com/watch?v=_Ke7F6D83gk