NEW Model G278-30-400 Grinder with Feed Roller Assembly
Jul 05, 2012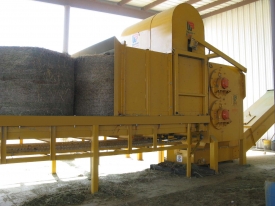 The Model G278-30-400 Grinder with Feed Roller Assembly is the largest and the latest generation of Warren & Baerg's high production, virtually dust free round bale grinders. While the G278-30-400 Grinder model is designed specifically for round bales, it also handles square and mid-size bales as well.

With W&B's new Feed Roller Assembly system, it makes it possible to effectively process round bales in excess of 20 tons per hour, in a much cleaner environment than the traditional tub grinder. The Feed Roller Assembly eliminates material slugs eliminating amp draw spikes increasing production output through better utilization of power.

Many of our new customers are switching from a tub grinder to their Horizontal Grinding Systems to reduce or eliminate their dust problems as well as reduce their 1%-6% material losses. The Grinder can be either a high volume pre-grinder or a one-step single grinder system.

Warren & Baerg Grinders provide easy mechanical loading, which is less labor intensive and lower maintenance costs.

The Warren & Baerg Grinding Systems consists of a bale feed conveyor with hood, Feed Roller Assembly, Grinder, Screens, and either an air discharge chute or takeaway conveyor system depending on customer specific needs and grind size. The Bale Feed Systems can also be semi-automatic to fit application needs. The grinder is electrically powered with two 200 horsepower motors and lower horsepower motors on the conveyors. On lower tonnage applications, the grinder can be sized with lower horsepower motors.
To see a video of the equipment operating click on the following link: http://www.youtube.com/watch?v=fFv_ycq8nxI&feature=plcp.
Contact Warren & Baerg at 559-591-6790 for more information about our Grinding Systems or email us at info@warrenbaerg.com.